Resident Spotlights
Asia Peek, MD, MBA, MPH
PGY4
Hometown




Upstate New York

Undergrad




Florida Agricultural and Mechanical University

Medical School




Geisel School of Medicine at Dartmouth University
Hi All! I am a PGY4 and I am interested in addiction psychiatry and collaborative care. This year, I am the chief resident of the addiction psychiatry service. As part of that role, I carry a clinic caseload, see addiction psychiatry consults on our inpatient addictions consult service, and teach and support junior residents rotating through our service.
My path to medicine was a circuitous one. Though I can recall saying "I want to be a doctor," at the age of 5 in response to that question we all get at that age, I found myself collecting an MBA and an MPH, and making a pit stop at a post baccalaureate program on my way to medical school and residency. I think my path has served to guide my practice in a multidisciplinary way.
When I started this journey in my hometown in upstate New York, I did not expect to become so enamored with all of psychiatry. My interests were so broad that it was difficult identifying a sub-specialization on which to focus. Addiction psychiatry has drawn my interest because of how unfortunately pervasive it is. More specifically, given the intersection of my identifiers of Black American and woman, I'm able to understand on a deep level the cultural nuances of particularly vulnerable groups within this already marginalized psychiatric patient population. I look forward to practicing in general outpatient psychiatry, collaborating with primary care offices on patients who have previously had difficulty accessing psychiatric care, and remaining comfortable addressing addiction needs as they arise.
Austin Greenhaw, MD
PGY4
Hometown




Denton, TX

Undergrad




Trinity University, TX

Medical School




Texas Tech University Health Sciences Center
Hey y'all, I'm a PGY4 interested in child and adolescent psychiatry and the care of LGBT youth. I myself am a gay-identified physician originally hailing from Texas, and I attended medical school in rural West Texas. Part of my choice to come to the Northeast for my psychiatry training was my desire to work with with LGBT populations.
Fortunately, I matched to BIDMC. I was able to spend time weekly longitudinally throughout my third year working at Fenway Health, a community health center centered on the LGBT community. During my time there, I was afforded the opportunity to work in a psychopharmacology clinic in the behavioral health division of the center. While my psychopharmacology training in other settings was excellent, my time spent at Fenway Health was especially important as it allowed me to learn the complexities and specifics of practicing psychiatry for the LGBT community.
I hope to continue in my efforts caring for LGBT patients as I move forward and apply for child and adolescent psychiatry fellowship this year. My time in residency has allowed me the unique opportunity to explicitly serve a community to which I belong, and I feel grateful for the opportunity.
Andy Wu, MD
PGY4
Hometown




Westchester, NY

Undergrad




Duke University

Medical School




SUNY Downstate Medical Center
Hello everyone! I am a PGY4 resident interested in clinician burnout, distress, and mental health. I was able to use some of my selective time during PGY3 year to work on academic projects related to my interests. During my fourth year, in addition to continuing to take care of patients in the BIDMC ambulatory clinic, I'm spending half of my time collaborating with the hospital Graduate Medical Education office on a project measuring resident demand for wellness-based resources and prioritizing self-reported burnout factors. I was awarded a Harvard Medical School Dupont Warren Research Fellowship for this work.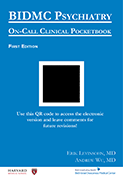 A pocket guide for on-call residents written by two BIDMC residents, Andy Wu and Erik Levinsohn
Addressing clinician burnout is something I have always been passionate about and the supportive environment and mentorship provided by the residency program, my principal investigator in the BIDMC Psychiatry Department (Dr. Kevin Hill), and the research fellowship from Harvard Medical School have allowed me to pursue my academic interests in clinician burnout.
Beyond this research project, I have started a podcast, "Shrinking Burnout", with my co-resident Varsha Radhakrishnan. The podcast aims to normalize clinician burnout by showcasing individual stories of clinician resilience in the face of burnout, clinician distress, and stigma. I am also interested in resident and medical student education, and have been able to work on several projects related to improving the educational aspects of the on-call resident experience, including co-authoring an on-call pocket reference book for our residents with one of my co-residents, Erik Levinsohn.
Varsha Radhakrishnan, MD
PGY3
Undergrad




The College of New Jersey

Medical School




Rutgers New Jersey Medical School
I'm a PGY3 resident interested in pursuing a career in Women's Mental Health and Consultation- Liaison Psychiatry. This is a rapidly evolving and complex field, and last year I attended the Academy of Consultation Liasion Psychiatry Annual Conference in San Diego and learned about some of the fascinating new developments in research in women's health including the function of neurosteroids, role of oral contraceptives, psychiatric conditions related to infertility, perinatal substance abuse, and human sexuality in medicine, all of which helped further fuel my interest in Reproductive Psychiatry. .
This year, I'm working with our Ob/Gyn department to help identify gaps in their existing curriculum with respect to reproductive psychiatry. Under the mentorship of Dr. Cathy Lager and Dr. Whitney Peters, two perinatal psychiatrists here at BIDMC, I plan to design a lecture and virtual self-study resources for Ob/Gyn residents to ameliorate some of the challenges that arise when treating women with psychiatric illnesses. I am also working with current psychiatry Consultation-Liaison faculty on devising a workshop to explore treatment of perinatal eating disorders and on a study looking on length of stay in the emergency department for college-aged young adults presenting with psychiatric symptoms.
During my PGY3 year, I am exploring my interests by working in our Perinatal Psychiatry Clinic and building upon my recent experiences working with pregnant patients through the CL service. The ability for residents to participate in clinical selective experiences in our third year has been a great opportunity to tailor my residency experience to my interests.
There is a staggering need for more perinatal psychiatrists and therefore it can be difficult to receive direct training in reproductive psychiatry. As a 4th year medical student exploring options for training, I was actively looking for a residency program that had direct access to a perinatal psychiatry clinic, faculty with expertise in Women's Mental Health, and access to research and leadership opportunities within the field. Looking back on my experiences thus far, I feel grateful to be working in a supportive and academically stimulating environment.