Resident Spotlights
Obi Ekekezie, MD

Undergrad




Harvard University

Medical School




The Warren Alpert Medical School of Brown University
Hello world, I'm a rising PGY3, and I grew up in Kansas and graduated from Harvard University in 2012 with a degree in Statistics.
Prior to attending medical school at Brown University, I spent time in San Francisco working in management consulting as well as on developing a Bluetooth Low Energy-based social networking iPhone app that garnered attention from media as well as from venture capitalists. While in medical school, I continued to pursue my interest in technology and looked for ways in which technology might help solve problems in healthcare. I developed a text messaging-based blood glucose log and also explored using conversational agents to automate administering questionnaire-based screening tests.
Within psychiatry, my interests are fairly broad and currently include non-invasive brain stimulation, quality improvement, and digital psychiatry. During PGY2, we worked on a quality improvement project as a class over the course of the year that sought to help residents feel more comfortable managing restraints and seclusion on the inpatient psychiatric unit, and we presented it at grand rounds towards the end of the year. As part of our third year clinical selective experiences, I'll be able to get exposure to both ECT and TMS. I'm also looking forward to having the opportunity to be mentored by a leader in digital psychiatry for my scholarly project.
In my free time—of which there is more of in the latter years of residency as might be expected—I like watching Premier League soccer (especially Arsenal FC matches), cooking, listening to podcasts, programming, finding new music, and keeping up with current events.

Update: Dr. Ekekezie will be serving as the Chief Resident on the Inpatient Psychiatry Service during his PGY4 year.
Varsha Radhakrishnan, MD

Undergrad




The College of New Jersey

Medical School




Rutgers New Jersey Medical School
I'm a PGY4 resident interested in pursuing a career in Women's Mental Health and Consultation- Liaison Psychiatry. This is a rapidly evolving and complex field; my experience attending the Academy of Consultation Liasion Psychiatry Annual Conference in San Diego and learning about some of the fascinating new developments in research in women's health including the function of neurosteroids, role of oral contraceptives, psychiatric conditions related to infertility, perinatal substance abuse, and human sexuality in medicine, helped further fuel my interest in Reproductive Psychiatry.
During my residency, I have been working with our Ob/Gyn department to help identify gaps in their existing curriculum with respect to reproductive psychiatry. Under the mentorship of Dr. Cathy Lager and Dr. Whitney Peters, two perinatal psychiatrists here at BIDMC, I have designed and begun to implement lecture and virtual self-study resources for Ob/Gyn residents to ameliorate some of the challenges that arise when treating women with psychiatric illnesses. I am also working with current psychiatry Consultation-Liaison faculty on devising a workshop to explore treatment of perinatal eating disorders and on a study looking on length of stay in the emergency department for college-aged young adults presenting with psychiatric symptoms.
During my PGY3 year, I explored my interests by working in our Perinatal Psychiatry Clinic and building upon my experiences working with pregnant patients through the CL service. The ability for residents to participate in clinical selective experiences in our third year has been a great opportunity to tailor my residency experience to my interests. This year, I am excited to dig deeper into the field as one of the co-chief residents of the CL service at BIDMC and am getting ready to apply for a fellowship in CL psychiatry.
There is a staggering need for more perinatal psychiatrists and therefore it can be difficult to receive direct training in reproductive psychiatry. As a 4th year medical student exploring options for training, I was actively looking for a residency program that had direct access to a perinatal psychiatry clinic, faculty with expertise in Women's Mental Health, and access to research and leadership opportunities within the field. Looking back on my experiences thus far, I feel grateful to be working in a supportive and academically stimulating environment.

Update: Dr. Radhakrishnan will be starting a fellowship in Consult Liaison Psychiatry at Brigham and Women's hospital in July 2022.
Stephanie Mokashi, MD MPH

Undergrad




University of Texas at Austin

Medical School




University of Texas Southwestern Medical School
Hi everyone! I am a PGY4 resident interested in community/public psychiatry and therapy.
My interest in public psychiatry arose in part from experiences I had prior to residency, during my Master of Public Health Training at the University of Texas. During my MPH, I worked on a health service research project focused on better connecting healthcare providers to community-based organizations such as homeless shelters and food pantries through a technological platform. Through this experience, I learned the crucial role that many community-based organizations like homeless shelters play in the treatment of people with severe mental illness.
For residency, I moved across the country from Texas to Boston. The strong training in both therapy and community psychiatry drew me to BIDMC. During my training at BIDMC, I found my work at the Massachusetts Mental (Mass Mental) Health Center to be particularly gratifying. Mass Mental, which is a partner of the Department of Mental Health, provides outpatient care for patients with chronic and often severe mental illness. This year I will continue to work at Mass Mental as the chief resident of the RAFT (Rapid Access & Flexible Treatment) program. The RAFT program is a day program that offers CBT and DBT group and individual treatment. A unique feature of the RAFT program is that it is a training site for psychology interns and psychiatry residents from BIDMC, CHA, and BWH. In my role, I will act as a supervisor and teacher to the residents rotating in the program, providing education to trainees related to psychopharmacology, behavioral therapies, group therapy, and the public psychiatry system.
In line with my interest in therapy, I also co-created and taught a motivational interviewing didactic for PGY1 psychiatry residents, which I plan to continue to teach this year. I also am a member of the BIDMC Advocacy group, and I recently advocated for expansion of the mental healthcare system at a NAMI event.
BIDMC and Massachusetts Mental Health center have exposed me to diverse training opportunities, which has furthered my interest in both community psychiatry and therapy. I am excited to pursue a career in both avenues!

Update: Dr. Mokashi will be starting a position at the Elliot Community Center Certified Behavioral Health Clinic in Everett, MA, in July 2022.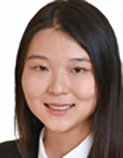 Yelu Zhang, MD

Undergrad




McGill Unversity

Medical School




Boston University School of Medicine
Hello! My name is Yelu and I am a rising pgy3.
I was born in Nanjing, China, then moved to Canada with my family, eventually settling down in Ottawa. I studied anatomy and cell biology at university while doing research in epigenetics and pediatric neuro-oncology--that's when I became interested in the human brain. I moved to Boston for medical school and initially considered a career in neurooncology or pediatrics, but was repeatedly drawn back to psychiatry, and ultimately the specialty won me over.
During residency, I've developed an interest in neuropsychiatry and am curious to understand the neurobiology underpinnings of psychiatric presentations. I enjoy teaching and curriculum design and had wonderful opportunities to be a part of the NNCI scholars program in my pgy2 year, as well as work with faculty mentors on clinical neuroscience teaching projects. I've also enjoyed the emergency psychiatry rotation, including its fast-paced environment and diverse patient presentations. For pgy3, I'm hoping to rotate at the cognitive neurology unit at BIDMC and continue to work on medical education projects.
Beyond psychiatry, I like to dance, exercise, and walk next to the ocean or in the woods. In the past, I occasionally taught dance fitness classes, and am hoping to restart this soon once the pandemic ends.
Being a part of this residency program is truly a dream come true and I feel grateful to be surrounded by wonderful co-residents and faculty members. I'm excited to keep on learning and growing while here.
Shane Fischbach, MD

Undergrad




Brown University

Medical School




The Warren Alpert School of Medicine at Brown University
Hi there! I am a rising PGY4 resident interested in neuropsychiatry and psychotherapy.
I came to medical school from the research lab, and one of the (many) appeals of psychiatry was the excitement around new discoveries related to the brain and the mind. During my PGY1 and PGY2 neurology rotations, I was moved by the extent of overlap between neurological and psychiatric illnesses. Based on my interests, the BIDMC Residency Program was able to facilitate PGY3 selective rotations for me during my PGY3 year. This gave me the opportunity to take care of patients with diverse neuropsychiatric illnesses in the cognitive neurology unit and granted me the flexibility to travel to Lahey Hospital in Burlington, MA, so that I could work with a national expert in the neuropsychiatry of Multiple Sclerosis. In addition to exposing me to new content and inspiring patients, these two electives introduced me to two attendings whom I consider among my most valued mentors.
Another part of the BIDMC experience I am grateful for is the rigor of our training and supervision in psychotherapy. It is a privilege to learn case formulation and practical therapeutic skills from outstanding supervisors in diverse modalities (CBT, ACT, DBT and psychodynamic therapy).
Lastly, what has stood out about this program is the extraordinary community it fosters. Even when residency is over, I know I will have a cohort of thoughtful colleagues to lean on for clinical questions and moral support.
MICHAEL TOM, MD

Undergrad




University of Calgary, Canada

Medical School




Harvard Medical School (HST Program)
Hi everyone! I'm a rising PGY3 and have been here longer as a medical student. I really appreciate the warm, down-to-earth culture, which made me want to stay for residency. I've also enjoyed the strong foundational training along with the flexibility and support to pursue my interests in community psychiatry, psychotherapy, and advocacy.
As a medical student, I did my psychiatry clerkship in the Mass Mental RAFT Program, which is a core rotation site in PGY2. I had the privilege of leading group and individual DBT sessions, and really resonated with the inherent creativity and flexibility of therapy along with the idea of meeting people as fellow humans. There were great mentors on the interdisciplinary team including the psychiatry attending, lead social worker, and BIDMC resident, who helped sparked my interests in community psychiatry and psychotherapy. I am now the inaugural resident in the new Community Psychiatry Track. This coming year, I'm looking forward to rotations at Boston Healthcare for the Homeless, the Mass Mental Young Adult Team, and the Dimock Center. We also benefit from very strong psychotherapy training. I've appreciated the Program in Psychodynamics, with food and cases hosted by faculty, and will likely do a psychoanalytic therapy fellowship in PGY4 through the Boston Psychoanalytic Society and Institute. My interests also include spirituality and psychiatry. I've co-written a book chapter on equanimity and for my scholarly project, am examining spiritual direction to see what aspects might be applicable to psychiatry.
I've also worked with other amazing residents to found and co-lead the Psychiatry Resident Advocacy Committee. Our activities have included lobbying state legislators to fund mental health initiatives, walking to raise money for suicide prevention, and leading a workshop for all program residents on lobbying and op-ed writing. I am the resident representative on our DEI committee, which is assessing our department and laying out a strategy for improvement. Starting next year, I'm excited to be an American Psychiatric Association Leadership Fellow. I've always felt extremely well supported in my multiple identities as an individual, psychiatrist-in-training, and leader. Please feel free to reach out if you have any questions!