A Day in the Life
PGY-1
Hello! I'm Tom (Hyungjin) Kim, a first-year psychiatry resident at BIDMC. I'll walk you through a day in the life of an intern in our program and give you a glimpse of what life as a PGY-1 is like!
I just finished my Psychiatry Emergency Department rotation, which was one of my favorite rotations all year! I get to the hospital by 7:30am for sign-out. For the first few hours, I follow-up on existing patients to evaluate if our current treatment is helping and see if I can make any changes to improve the plan. Then in the late morning/afternoon, I start seeing new consults from the ED. On each case, I work one on one with our Consultation Liaison attendings to evaluate patients, formulate a diagnosis/plan, and determine and appropriate level of care. The attendings do an amazing job of encouraging residents to lead the entire process while being a source of knowledge and advice. I loved ED psych because after a few weeks on service, I felt much more confident in myself as a psychiatrist, largely thanks to all the autonomy I was given as a resident. There's also so much clinical diversity in the ED, so there's never a dull day. You'll get to see a wide range of patients including college students, women in the perinatal period, and geriatric patients. There's an equally wide range of pathology including first-break psychosis, mood disorders, suicidal ideation, and substance use disorders. After seeing follow-ups in the morning and a few new cases in the afternoon, my work day ends at 6pm when I sign out to the night-shift resident.
Oftentimes after work, I plan for dinner with my co-residents where we take turns cooking for each other or settle in for an evening of board games. Many of us are big foodies, and we are making our way through our long wish-list of restaurants in Boston. On the weekends, I make day trips to many nearby parts of New England (Providence, Newburyport, Maine) or take the train into NYC for a full weekend getaway. I was nervous about moving to a new city, but my co-residents and the BIDMC community have become a wonderful support network in just a few months.
I currently live in an apartment in Fenway with an awesome door-to-door time of 10 minutes into work! I'm walking distance to grocery stores, restaurants (including the trifecta of Chipotle, Sweet Green, and Cava), and a brewery so I couldn't be happier with the location. I also appreciate that several of the BIDMC residents live around the hospital, so it's easy to organize impromptu dinners and hangouts. I'm also a new cat dad to Rambo, who always eagerly greets me by the door (completely unrelated to the fact that this is when I feed him treats).
I honestly couldn't be happier that I matched at BIDMC. The training is a great balance of challenging and supportive, the people are warm, friendly, and brilliant, and the institution itself has a great collaborative spirit that makes me proud to be a physician. Intern year has been a wonderful experience, and I can't wait to continue my training at BIDMC!
PGY-2
Hi everyone! I'm Molly. I'm originally from the Philadelphia area, though I have loved this New England ever since attending college in New Hampshire. After heading to NYC for medical school, where I developed a love of psychiatry, I made my way back to New England for residency at BIDMC! I'm excited to share a little bit about a day in the life as a PGY-2 psychiatry resident.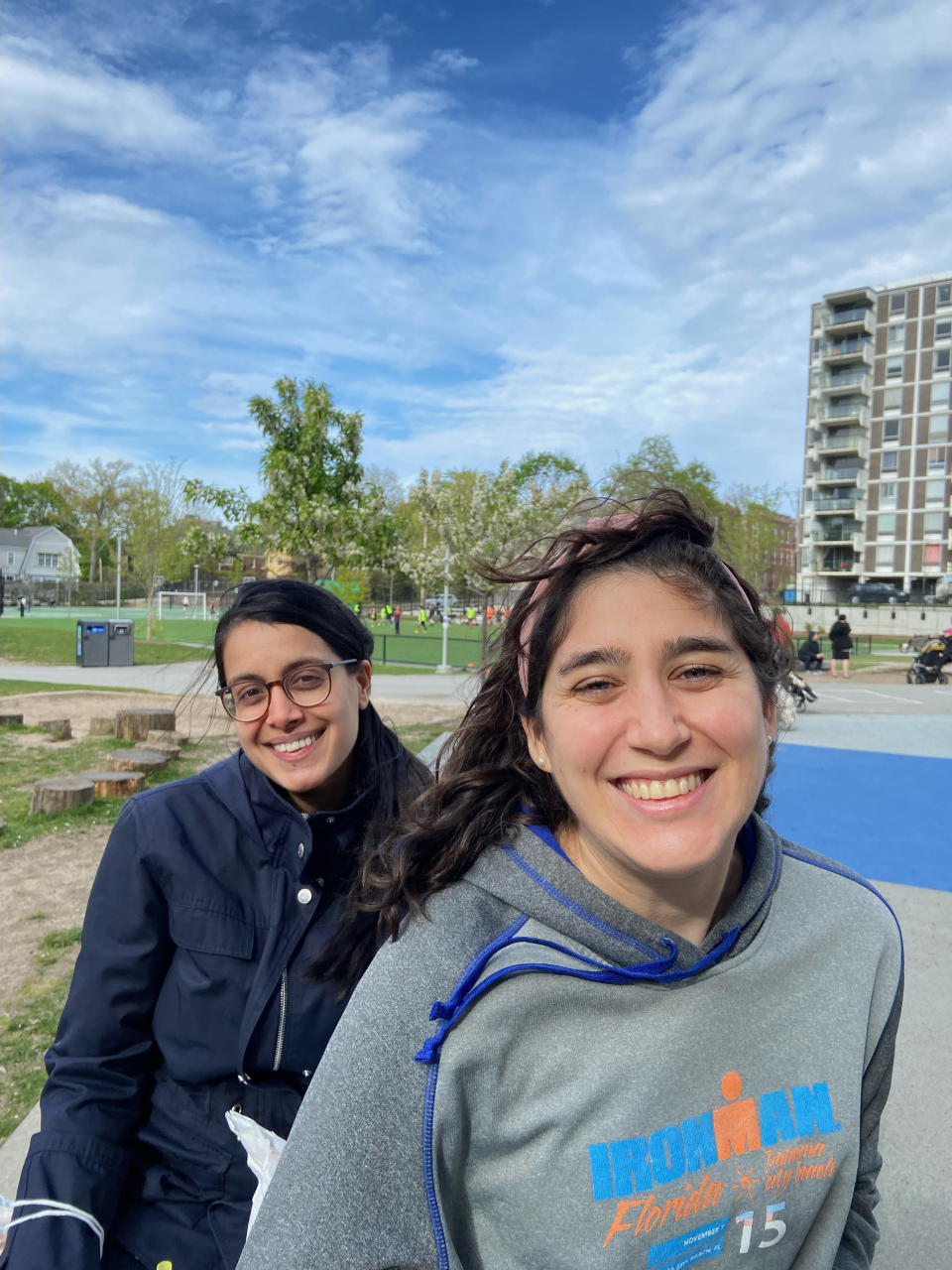 I'm currently writing to you from the ED workroom, where I'm on night float where I've seen a wide range of cases this week.
Outside of this week, I'm currently on my rotation at the RAFT program at Massachusetts Mental Health Center (aka Mass Mental/MMHC). Mass Mental is a clinic run through the Department of Mental Health (DMH), so it's a great community psychiatry experience. All of the patients are DMH clients, which means they have severe, persistent mental illness. We get to spend 3 months working at their day program as part of our PGY-2 year.
On a typical day, I wake up around 8am to get ready for work. We have virtual rounds from 8:45-10am, and I can choose to attend either in person or from home (with a nice mug of tea), depending on my schedule for the day. Part of what sets Mass Mental apart from other rotations we've done so far in residency is that it's an outpatient setting, so there's more variety in my schedule day-to-day. I co-lead 4 groups per week with another resident and a full-time staff member (two DBT groups, one CBT group, and one wellness group). On days where I'm leading group, I spend some of my free time prepping materials for the skills we're teaching that day. Outside of group time, I meet one-on-one with my individual patients. Depending on each patient's situation and needs, I may also spend some time coordinating with their case workers, outpatient providers, group homes, PCP's, and others, to make sure we have good coordination of care. One thing I really appreciate about MMHC is its wrap-around services for clients, including help with housing and other social services. I have regular supervision with my attending, and we also have group supervision weekly with the chief resident. I usually finish for the day by about 4pm, which is great because it gives me time to enjoy some of the afternoon now that it's getting warmer in the spring!
After work and on weekends, I love to spend time exploring local restaurants, hanging out with friends, or spending time outdoors in one of Boston's beautiful parks or green spaces.
PGY-2 is a challenging year, but also a year of a lot of growth as a psychiatrist - I can't believe it's already almost over! I can't wait to jump into the next adventure of outpatient psychiatry as a PGY-3 soon.
PGY-3
Hi there! My name is Allison Jackson and I'm a third-year psychiatry resident at BIDMC Harvard. I was born and raised in small town Arkansas, Woo Pig Sooie!! (college football reference, y'all). I attended the University of Arkansas at Little Rock as a biology major before going to medical school at the University of Arkansas for Medical Sciences where I found a love for psychiatry at the Arkansas State Hospital.
My interests in psychiatry are forensic psychiatry, (specifically correctional psychiatry), Esketamine, and neuromodulation such as ECT and TMS. BIDMC Harvard has provided me with so many opportunities including excellent mentors in all of these fields which was really important for me when I was looking at residency programs.
One of the best parts of PGY3 is that our program offers a variety of electives in addition to the general outpatient experience. Here is a mini-guide of my PGY3 week:
Monday AM (Psychopharmacology Clinic at BIDMC): Clinic starts at 9:00. We meet with Dr. Brady and our co-residents to run the list. We usually see between 1 to 4 patients (depending on whether it's a 1 hour new intake or a 30 minute follow-up appointment). At 11:30 I finish up documentation, head down to the Starbucks for an iced matcha latte, and then walk over to the TMS clinic to work with Dr. Stern.
Monday PM (Elective Option: Transcranial Magnetic Stimulation Clinic): We join as a group with Dr. Stern, the neurologists, the TMS technicians, and we run the list. Dr. Stern and I see a few TMS evaluations and then I will see a few brief follow ups to check in on how our patients are responding to the treatment. Dr. Stern is an amazing teacher and an impressive writer (check out his book "Committed"!) and podcaster. I really have enjoyed doing this work -- seeing how TMS works, who is appropriate for the treatment, and seeing many of the patients respond so well to the treatment.
Tuesday AM (Outpatient Psychotherapy Case Conference at BIDMC): PGY3s and PGY4s join as a group with Dr. Pam Peck, often with an array of breakfast snacks, to discuss challenges and important moments we encounter in our current therapy cases, including couples, group, and individual therapies. This is a really enjoyable part of PGY3 where you can come together with your co-residents and discover what is it is like be a therapist in different settings. At 10:00 we split up and PGY3s have a Psychopharmacology seminar and a CBT seminar.
Tuesday PM (MMHC Continuity Team): Massachusetts Mental Health Center is both a historic psychiatric hospital since 1912, and now a newly redesigned outpatient health center. This is the place where we get to see real community psychiatry in action. We are evaluating and caring for patients with psychotic disorders, bipolar spectrum disorders, and array other major mental illnesses. This is such an important experience for psychiatry residents to see how MMHC operates and to work with a fabulous team of psychiatrists/psychologists/social workers/case managers/primary care physicians.
Wednesday AM (Didactics): Didactics morning! PGY3 has many interesting and fundamental didactics, some of my favorites of the unique short-term courses being: DBT, Sex Therapy, Cultural Aspects of Psychiatry, ACT therapy, and Spirituality. We also have a 4-year running "course" that starts as an intern called Becoming a Psychiatry aka BAP aka Feelings Group. Every week getting to sit down with your co-residents plus two inspiring psychiatrists to discuss our experiences of becoming a psychiatrist and all the thoughts and feelings that come with that, I am a believer that all residencies should have this as a course!
Wednesday PM (Integrated Clinic): I do my integrated clinic (both the therapist and psychopharmacology prescriber for each patient) during this time. I have a mix of psychodynamic, CBT, and a dash of DBT cases. I have loved this style of clinic so much. You often can keep these patients in your panel until you graduate so you can do explore in-depth therapy work together. During this time, I also see some of my psychodynamic or CBT supervisors to review the ins and outs of the therapy process. Some of the supervisors are attendings around BIDMC, some of them are private practice, some of them are psychoanalytically trained, and there are many other areas of expertise, so there are many great choices for therapy supervisors is a highlight of this program.
Thursday AM (MMHC Continuity Team): This is pretty similar to my Tuesday afternoons. See above!
Thursday PM (Integrated Clinic): See Wednesday PM above!
Friday AM (Elective Option: ECT): One of favorite days of the week is ECT day. I did this elective for 6 months of the year with the other 6 months being Mental Illness with Problematic Sexual Behaviors team at MMHC, also one of my favorites. ECT starts early but goes by fast. Seeing patients have radical improvements in short periods of time is so rewarding. On this elective you are supervised by Dr. Bloomingdale and Dr. Thall who are two amazing psychiatrists who genuinely love teaching.
Friday PM (Scholarly Project Time): During this time, I schedule any meetings I need to do, work on my scholarly project which has included writing a book chapter for a psychiatry textbook/working on resident education in the areas of forensics, and maybe grab some groceries and laundry. In the late afternoon, I love to go exploring the city with my besties/coresidents. Checking out new restaurants, seeing live music, or going to Red Sox game ($5 tickets for BIDMC residents, umm yes!).
Weekends: Free for all! PGY3s have very little call, only a few shifts to help out the PGY1s/PGY2s, so my weekends are usually open. On the weekend, I frequently will check out neighboring cities and states to see all that beautiful New England has to offer. In the summer, I can be found doing yoga on the beach, BlueBike-ing around town, or attending a fun local event with friends.
Overall, PGY3 has been my favorite year so far! Being able to have this much elective time starting in your third year is incredible and really helps you shape what kind of psychiatrist you want to become.
PGY-4
Howdy! My name's Erik and I'm a PGY-4 at BIDMC. This year I'm splitting my time between my role as chief of our inpatient service on Deaconess 4 and seeing outpaitents for both medication management and psychotherapy. The chief role is half-time, so I get a great mix of being involved with more acute care during my time on Deaconess 4 and getting to do longitudinal work while on Rabb 2. While on the inpaitent unit, I try to do a mix of administrative work, teaching, and clinical work.
My days on the unit start at 8 AM getting sign out and maybe covering a teaching topic with residents or medical students before getting into the nuts and bolts of trying to help the unit run smoothly. There's always plenty of work to be done on the unit and I like to get involved with patient interviews, helping with documentation, or answering questions when I can.
Outside of Deaconess 4, the opportunity to see integrated therapy patients is an incredible opportunity— as we start seeing outpatients during our PGY-2 year these are often treatment relationships that have developed over a long period of time and allow for intense and meaningful work.
Both my chiefship and outpatient responsibilities seem like a crowning jewel of residency— having finished with overnight call, medicine, and core rotations I've been able as a senior resident to pursue my interests and think more broadly about the kind of psychiatrist I want to become.
Outside of work, I live with my fiance in Jamaica Plan (easily the best part of Boston) with our rescue dog Luna. We all love spending time outside and eating the tasty food that JP has to offer (for Luna, primarily scraps she finds on the ground). Outside of work and family life, my primary pursuit is cycling and I'm grateful to have hundreds of miles of great riding right outside my door.
While I'm excited for my next step (I'll be a CL fellow at BMC starting in a month), I'm also sad to be leaving behind many friends at BIDMC. I feel grateful for the last four years, which have been some of the most formative, fun, and meaningful of my life.